HAPPY HOWIES Premium Roll Treat- Lamb
Regular price
$3.99
Sale price
$3.75
Save $0.24
/
---
{from the manufacturer}
Happy Howie's Soft Lamb Rolls are love at first bite! Our rolls are the only high-value training treat with fewer ingredients that doesn't crumble in your hands. Made in the USA with all-natural lamb, these soft rolls cut up easily into smaller pieces that are an excellent way to hide pills, use as a food topper or simply to reward your dog! Find out why our deli-style Soft Lamb Rolls are the training treat preferred by expert dog trainers throughout the country. The only meat roll treat in the industry just got better with new sizes and a longer shelf life. 
Preferred by trainers throughout the country! High quality reward—slice it, dice it, break it, or freeze it! Our moist and flavorful rolls don't crumble.
The preferred training treat of expert dog trainers throughout the country. Short on ingredients and large on flavor, these soft rolls make training easier and more fun. You can also use these rolls as a food topper or to hide a pill.
• Cuts easily to any size
• No wheat, corn, nitrates or soy!
• No added sugar
• Simple ingredients
• 100% Natural
**We are in the process of updating our packaging. The meat rolls you receive may not look like the one pictured above**
Ingredients Lamb, Rice Flour, Coconut Glycerin, Sodium Lactate, Salt, Citric Acid, Dried Cultured Skim Milk, Garlic, Silicon Dioxide, Mixed Tocopherols (a preservative), Vegetable Oil, Rosemary Extract. Made in the USA!
Guaranteed Analysis Crude Protein (min): 9%, Crude Fat (min): 9%, Crude Fiber (max): 1%, Moisture (max): 41%
Caloric Content  
7 Oz: 2404 kcal/kg, 476 kcal per treat
12 Oz: 2404 kcal/kg, 817 kcal per treat
Intended for intermittent or supplemental feeding only.
Store in a dry and cool place. Keep refrigerated after opening & use within two weeks. For extended storage, you can freeze before or after opening.
How many calories a pet needs per day varies a lot depending on exercise and metabolism. Please consult with your veterinarian about the appropriate treats for the specific breed, size, age and health of your dog.
Happy Howie's products are intended as treats only. As with any edible product, monitor your dog to ensure the treat is adequately chewed.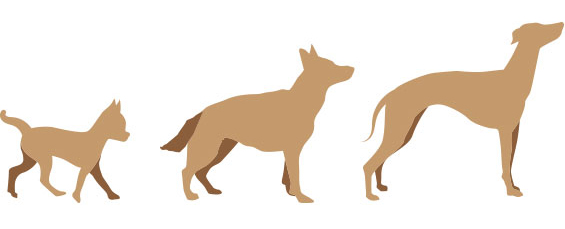 SERVING/FEEDING GUIDELINES
At Happy Howie's, we strive to provide healthy, tasty treats that enhance the relationship between dogs and their pet-parents. Pet safety is very important to us. Please follow these helpful feeding guidelines for a happy, healthy dog:
Cut the treat into smaller piece(s):
Do not give a whole treat to your pet. Please cut, or break up the treat into smaller pieces.
Feed smaller piece(s) to pet:
Be sure to only feed appropriately sized treats to your pet. A vet can help you determine the right size.
Separate your dog from other pets
Dogs can get really excited when it comes to treat time. Separating your dog from other pets before being given any treats is a good idea so he/she can relax while chewing. This way, your dog will be less likely to gulp large pieces whole. This may be especially important if you have a dog that is very territorial around food and/or treats.
Microwave to soften any hard treats:
Treats may harden over time. To soften, you can microwave for 5 seconds for ease of slicing or chewing.
Store in zip-lock:
For optimum freshness after opening, store in a cool, dry place. Be sure to remove air from zip-lock bag and seal bag completely after feeding.
---
HAPPY HOWIE'S TREAT SAFETY CHECKLIST:
As with all dog treat products, feed as a treat. Treats are not a replacement for dog food.
Treats are broken into smaller pieces.
Monitor your pet while feeding natural treats. Any treat can cause a problem if a large piece is swallowed—know your pet's chewing habits. Howie's treats are made to be chewed and not swallowed in chunks. Blockage may occur if swallowed in large pieces.
As always, give your dog plenty of drinking water when feeding treats.
Happy Howie's products are intended as treats only. As with any edible product, monitor your dog to ensure the treat is adequately chewed. Swallowing any product without it being properly chewed may be harmful or even fatal to a dog. If you suspect a problem, please contact your veterinary services and seek professional, medical help.